Expert Advice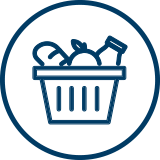 Nutrition
Satisfying Snacks to Boost Mental Clarity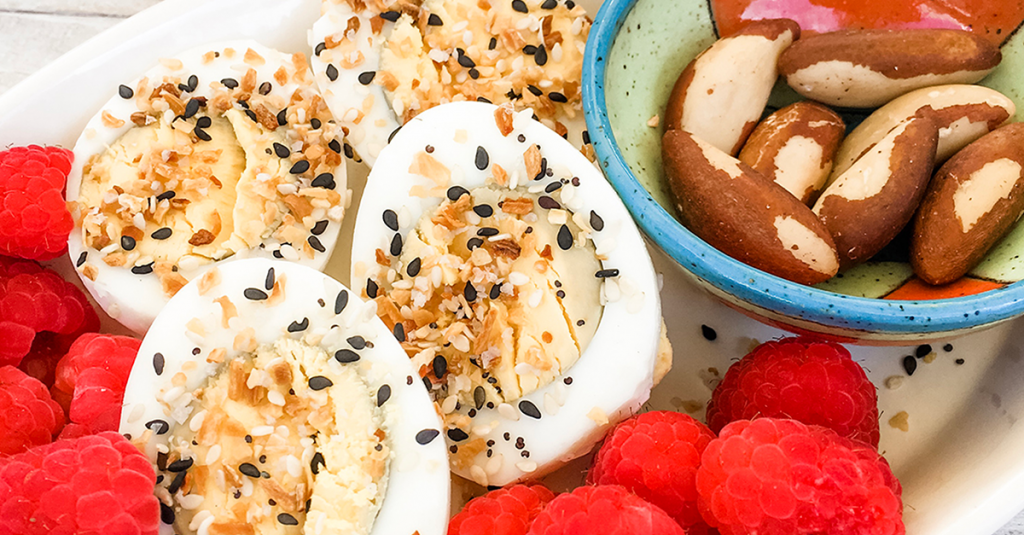 Acella Pharmaceuticals, LLC., is partnering with Heather Procknal, NBC-HWC-CHC to bring greater awareness to the importance of thyroid care and education. This post was sponsored by Acella Pharmaceuticals and should not be construed as medical advice. Please talk to your doctor about individual medical situation.
When you are chronically fatigued and suffering from brain fog due to a poorly functioning thyroid, the last thing you want to do is spend hours preparing meals and snacks for the week ahead. But you have to eat, and you know that the better you eat, the better you'll feel. This list of simple and satisfying make-ahead snacks might be just what you need to combat low energy. These foods also may give you a leg up with your mental clarity. They're not only quick and easy to make, but you'll also be able to enjoy them throughout the week if you're on the go. They're packed with some rock-star ingredients that may help support your thyroid health and improve your symptoms.
Jump to Recipes:
---
Everything-But-The-Bagel Hard-Boiled Eggs
First up is Everything-But-The-Bagel Hard-Boiled Eggs. Hard boiled eggs can be jazzed up with this fun take on the everything bagel.
Make ahead by hard-boiling 7 eggs and keeping them refrigerated.
Print Recipe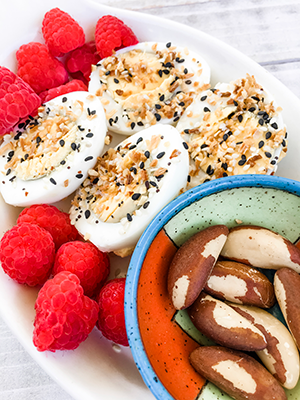 Recipe: Makes 14 Servings
Prep Time: 5 mins
Ingredients for Seasoning:
1 tablespoon sesame seeds
1 tablespoon poppy seeds
1 tablespoon dried minced onion
1 tablespoon dried minced garlic
1 tablespoon onion powder
1 tablespoon garlic powder
1 teaspoon sea salt
Instructions: Mix all ingredients together and store at room temperature in an airtight container. For one serving, cut one hard-boiled egg in half and sprinkle with Everything-But-The-Bagel Seasoning. It doesn't get much easier than that! Plus, it's yummy and packs a powerful protein punch for sustained energy.
Why this snack may be helpful: One egg contains about 20 percent of the daily recommended value of selenium and about 15 percent of the daily recommended value of iodine. Both are instrumental in keeping your thyroid humming along so it can help your body maintain homeostasis and produce important thyroid hormones.1,2,3
Salt & Vinegar Hard-Boiled Eggs
If you like salt and vinegar chips, then you'll love these salt and vinegar eggs!
Print Recipe
Prep Time: 5 minutes
Ingredients:
1 hard-boiled egg
1 tablespoon raw apple cider vinegar – recommend Bragg Raw Apple Cider Vinegar
Sprinkle of sea salt
Instructions: Cut 1 hard-boiled egg in half and sprinkle with 1 tablespoon of raw apple cider vinegar (make sure it has "the mother," the living culture that provides gut-healthy probiotics). Add a pinch of sea salt. Enjoy!
Why this snack may be helpful: Apple cider vinegar may help regulate blood sugar; researchers reported in one study that consuming 4 teaspoons of apple cider vinegar, diluted in water before a meal, improved insulin sensitivity and reduced blood glucose levels in both insulin-resistant and healthy people.4,5 This in turn may combat sugar cravings and mood swings related to blood sugar imbalances. Additionally, probiotics from apple cider vinegar have been touted as "mini-mood boosting helpers." Research shows that the gut and brain are tightly connected; this connection is often referred to as the gut-brain axis.6 These two are linked through biochemical communication between our nervous system in the digestive tract and our central nervous system, which includes our brain. Just like the brain, the gut produces the same mood-regulating neurotransmitters, such as serotonin, dopamine and gamma-aminobutyric acid or GABA, that regulate stress and anxiety. Interestingly, it's presumed that a majority of the hormone serotonin is made in the digestive tract, rather than the brain. So your mood may truly start in your gut and by feeding it healthy supportive nutrients, you may be able to regain your mental clarity and positive energy.
Protein Power Energy Balls: Gluten-Free & Dairy-Free
Craving something a little sweeter? Bust through brain fog with these delicious Protein Power Energy Balls.
Print Recipe
Recipe: Makes one dozen 3⁄4" balls
Prep Time: 15 min
Ingredients:
1 cup pitted dates
1⁄4 cup or about 10 Brazil nuts
3 tablespoons sugar-free or low sugar peanut butter or any nut butter of your choice
1 tablespoon chia seeds
2/3 cup gluten-free oats
1⁄4 teaspoon cinnamon
1⁄4 teaspoon sea salt
1⁄4 cup cacao nibs
1 tablespoon real maple syrup (optional)

Instructions:
1. In food processor, pulse pitted dates until they begin to form a ball and are in small pieces.
2. Add in Brazil nuts, peanut or other nut butter, chia seeds, oats, cinnamon and sea salt (and optional maple syrup). Pulse until very small pieces form and it holds together, but don't over process to a paste.
3. Use your hands to roll into small 3/4" balls.
4. Pulse the cacao nibs in food processor until they are broken into fine pieces; roll balls in crushed cacao nibs to coat.
5. Refrigerate and enjoy!

Why this snack may be helpful: A handful of Brazil nuts can contain more than your total daily recommended value of selenium. This is important because studies have shown that selenium aids in the production of active thyroid hormones. If you have a sluggish or underactive thyroid, this extra dose of selenium may help.7 Brazil nuts also provide zinc, which is another key nutrient for your thyroid health. One study showed the relationship between zinc deficiency and hypothyroidism along with hair loss.8 If thin hair and weak nails have you down, then this boost of zinc and selenium may help.
Gluten-Free, Dairy-Free, Chia Seed Pudding
Last, but certainly not least, we have the simplest and most versatile gluten-free and dairy-free Chia Seed Pudding. It's sure to satisfy and delight! You can prep this overnight and enjoy it for breakfast or snacks the rest of the week. This recipe makes 4 servings, but you can double or triple it if you'd like, so you're set for the whole week. You can vary the toppings to keep it interesting, and it can be enjoyed heated or cold.
Print Recipe

Prep time: 10 minutes
Ingredients:
2 cups your choice of non-dairy milk such as oat milk, almond milk, cashew milk or coconut milk
8 tablespoons chia seeds
1 teaspoon cinnamon
1 teaspoon vanilla extract (optional)
1 tablespoon real maple syrup (optional) Toppings:
2 tablespoons toasted coconut flakes – unsweetened
2 tablespoons cacao nibs
1⁄2 cup fresh or frozen berries
Instructions:
1. In mason jar or glass container with lid, combine non-dairy milk, chia seeds, cinnamon, vanilla and maple syrup. Close lid tightly and shake until all ingredients are combined.
2. Place in refrigerator overnight. The chia seeds will form a thick pudding-like consistency.
3. Pour 1⁄2 cup of pudding into a cup and top with toasted coconut flakes, cacao nibs and fresh blueberries or berries of your choice.
4. Enjoy warm or cold!
Why this snack may be helpful: Chia seeds contain between 34 grams and 40 grams of dietary fiber per 100 grams, which is equivalent to 100 percent of the daily recommended value for adults. In addition to being packed with fiber, chia seeds have an abundance of omega-3 fatty acids, which may play a role in brain and joint health, as well as appetite suppression, further supporting the "satisfying" descriptor used to entice you to these recipes!9 Aztecs and Mayans prized these tiny black seeds for providing sustainable energy. In fact, "chia" is the ancient Mayan word for "strength." This should come as no surprise, since just 1⁄2 cup of seeds contains 6 grams of protein and 25 percent of the daily recommended value for calcium! They're also chock full of magnesium which is beneficial for thyroid health by facilitating the production of T4 in the thyroid gland.10,11
Foods for Hypothyroidism
If your hypothyroidism has you feeling sluggish or unable to clear that foggy-headed feeling, reach for one of these protein-packed make-ahead snacks. All these satisfying recipes take 15 minutes or less to prepare and require no heating or cooking once they're made. Just pop them in your lunch for an on-the-go snack or afternoon pick-me-up! Did I mention that they're also gluten-free, dairy-free and delicious?
INDICATIONS & IMPORTANT RISK INFORMATION INCLUDING BLACK BOX WARNING
Important Risk Information
Drugs with thyroid hormone activity, alone or together with other therapeutic agents, have been used for the treatment of obesity. In euthyroid patients, doses within the range of daily hormonal requirements are ineffective for weight reduction. Larger doses may produce serious or even life-threatening manifestations of toxicity, particularly when given in association with sympathomimetic amines such as those used for their anorectic effects.
NP Thyroid® is contraindicated in patients with uncorrected adrenal insufficiency, untreated thyrotoxicosis, and hypersensitivity to any component of the product.
In the elderly and in patients with cardiovascular disease, NP Thyroid® should be used with greater caution than younger patients or those without cardiovascular disease.
Use of NP Thyroid® in patients with diabetes mellitus or adrenal cortical insufficiency may worsen the intensity of their symptoms.
The therapy of myxedema coma requires simultaneous administration of glucocorticoids.
Concomitant use of NP Thyroid® with oral anticoagulants alters the sensitivity of oral anticoagulants. Prothrombin time should be closely monitored in thyroid-treated patients on oral anticoagulants.
In infants, excessive doses of NP Thyroid® may produce craniosynostosis.
Partial loss of hair may be experienced by children in the first few months of therapy but is usually transient.
Adverse reactions associated with NP Thyroid® therapy are primarily those of hyperthyroidism due to therapeutic overdosage.
Many drugs and some laboratory tests may alter the therapeutic response to NP Thyroid®. In addition, thyroid hormones and thyroid status have varied effects on the pharmacokinetics and actions of other drugs. Administer at least 4 hours before or after drugs that are known to interfere with absorption. Evaluate the need for dose adjustments when regularly administering within one hour of certain foods that may affect absorption.
NP Thyroid® should not be discontinued during pregnancy, and hypothyroidism diagnosed during pregnancy should be promptly treated.
Indication
NP Thyroid® (thyroid tablets, USP) is a prescription medicine that is used to treat a condition called hypothyroidism from any cause, except for cases of temporary hypothyroidism, which is usually associated with an inflammation of the thyroid (thyroiditis). It is meant to replace or supplement a hormone that is usually made by your thyroid gland.
NP Thyroid® is also used in the treatment and prevention of normal functioning thyroid goiters, such as thyroid nodules, Hashimoto's thyroiditis, multinodular goiter, and in the management of thyroid cancer.